The Brookline Ballet School
The Brookline Ballet School
1431 Beacon Street
Brookline MA, 02446
Phone: 617.879.9988
Email: info@brooklineballet.com
Youth Ballet Program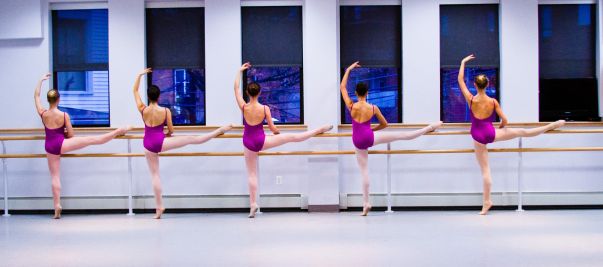 Our goal is to provide our students an unparalleled level of professional training in classical ballet. Ms. Vives and Mr. Ballard bring decades of combined experience as professional dancers, ballet masters and teachers to the Youth Ballet Program. Their hands-on approach and the small class sizes allow student to benefit from individualized attention to achieve rapid development. TBBS faculty members are dedicated to teaching students a pure ballet technique, as the foundation from which mastery of all dance forms grows. We encourage students to pursue their goals in a nurturing environment, fostering a life-long love for dance through dedication and hard work.
Pre-Ballet

(see Children's Program)



At this level we introduce children to the basics of ballet through simple barre and floor exercises and encourage them to express their creativity and musicality. Children develop body awareness and listening skills that will prepare them for our Youth Ballet Program. Children are placed in Pre-Ballet classes based on age regardless of prior experience.

Levels 1, 2
In these levels students transition into a more structured class environment. Students are taught the basics of ballet technique, putting special emphasis on correct placement and alignment of the body so they build a strong foundation for their future development. Students are placed in these levels based on ability rather than age.

Levels 3, 4 & 5

(by audition only)
In Levels 3, 4 and 5 students are introduced to new material in a developmentally-appropriate manner, as well as continuing to focus on the ballet basics through continuous repetition and refinement of previously-studied elements. Beginning in Level 4, girls will be introduced to pointe work at the Directors' discretion.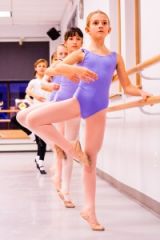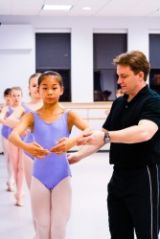 Level 6

(by audition only)
At this level the students continue building strength and technique through increasingly challenging barre and center work. Girls train in more intensive pointe work and dances from the classical ballet repertoire. Boys take the Male Ballet Training class. All Level 6 students take the Modern Dance/Contemporary/ Repertoire class and are encouraged to consult the Artistic Director about participating in Body Conditioning classes. Level 6 students may be invited to take Variations classes with the consent of the Directors.
Level 7

(by audition only)
The students in the Level 7 are trained as pre-professionals. In this level, students participate in Ballet Technique, Pointe, Variations, and Pas de Deux classes. Students continue to focus on classical ballet and have the opportunity to experience the challenge of working on new choreography. Level 7 students are required to participate in Modern Dance/Contemporary/Repertoire classes, as well as Body Conditioning classes.
Variations / Pas de Deux / Repertoire
Students in Levels 6 & 7 are introduced to classical ballet repertoire through Variations, Pas de Deux and Repertoire classes. They are taught and coached this repertoire by our Artistic DIrectors, with the goal of preparing for performance opportunities.
Contemporary Dance / Modern Dance
During the year, students in levels 6 and 7 are introduced to alternative styles of dance through Contemporary Dance and Modern Dance classes. Tommy Neblett, director of Prometheus Dance, teaches Modern classes and Viktor Plotnikov, renowned dancer and choreographer, teaches Contemporary Dance classes.
CHARACTER DANCE
Students in Levels 3 and 4 will have the opportunity to take Character Dance classes. Character Dance is a specific subdivision of Classical Dance. It is the stylized representation of a traditional folk or national dance, normally from a European country, and uses movements and music which have been adapted for the theater. Character dance is integral to much of the classical ballet repertoire. A good example of character dance within ballet is the series of national dances which take place at the start of Act III of Swan Lake. The ballet Don Quixote also features many character variations based on a traditional Spanish and Gypsy dance. Popular character dance adaptations for ballet also include the national dances of Hungary, Russia, Poland, Italy and Spain: chardash, mazurka, tarantella, etc.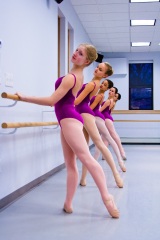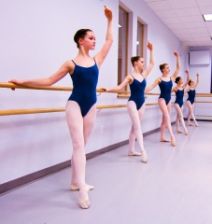 Male Dance Training
Boys and young men are offered separate and/or additional training that is tailored for male dancers. These separate ballet classes introduce them to the physicality and athleticism of dance for men through exciting and challenging exercises. Ideally, boys also take a ballet technique class appropriate to their age and experience. For a full description, photos and video including interviews with instructor Parren Ballard and students, please go to the Brookline Patch at: http://brookline.patch.com/articles/at-new-brookline-ballet-school-boys-can-be-boys.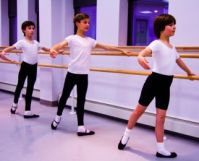 Private Lessons and Coaching
Individual instruction is available for advanced students and professional dancers wanting to prepare for performances, auditions, competitions, or simply to improve their level of technique.